< Go back
Tao Tao & Cao Cao moved to final training stage
Posted by Jeroen Jacobs | Date: 2012 05 04 | In: CCRCGP Wolong He Tao Ping Base, CCRCGP Ya'an Bi Feng Xia Base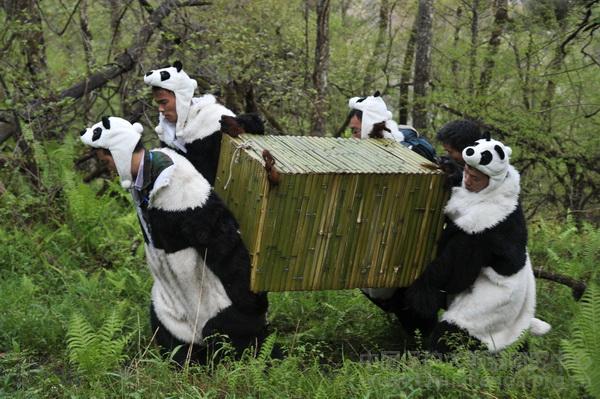 The China Conservation and Research Center for the Giant Panda in Wolong of Southwest China's Sichuan Province moved giant panda Tao Tao to its new home Thursday morning for the third and final stage of wild training, a key stage for releasing it into the wild.
Accompanied by his mother Cao Cao, Tao Tao was sent to the 240,000-square-meter third stage training enclosure located in an area at about 2,000 meters above sea level in mountain forest. The forest vegetation and geographical feature are similar to those of the second stage training base.
At the new training base, researchers have installed 180 surveillance cameras with 360-degree coverage, which can give signals immediately after capturing the videos of Tao Tao.
Tao Tao was move to the new home by being placed into a cage, before he was transported, and released into the new training field.
Two special cages were set at the exit of the habitat for Tao Tao and Cao Cao. Keepers wearing like pandas first guided Cao Cao to her cage with fresh bamboo shoots.
But it took about half an hour to lure Tao Tao into his cage as he has grown up with little human interaction and is highly skeptical.
Tao Tao was born on Aug. 3, 2010, weighing in at 205 grams, at a semi-wild panda training center in Hetaoping. At Hetaoping he was raised with as little human interaction as possible. In February 2011, Tao Tao and Cao Cao were transferred to a separate enclosure to undergo the second stage wild training at the Wolong Nature Reserve, where Tao Tao learned several basic survival skills from his mother, such as climbing and gathering food.
During the third stage, Tao Tao will learn to recognize and elude dangers and also learn to recognize his companion animals.
"We plan to use the urine, sound or some models of some of panda's natural enemies to stimulate Tao Tao during the training. If he is not afraid, we'll then find some other ways to make him feel uncomfortable and hide from possible dangers," said Huang Yan, deputy chief engineer of the center.
Zhang Hemin, director of the center, said if Tao Tao can survive in the wild after the training, the research center will continue to train other pandas in the same novel method before releasing them to the wild for the sake of genetic diversity, and ultimately achieve the goal of protecting pandas living in the wild.
"So we do pin a lot of hope on Tao Tao," said Zhang.
According to the center, there are 1,596 giant pandas living in the wild in China, in addition to 312 in captivity.
Click here for the movie of Tao Tao & Cao Cao's move.