< Go back
Qing He gives birth at Chengdu Panda Base
Posted by Jeroen Jacobs | Date: 2011 08 05 | In: Chengdu Research Base of Giant Panda Breeding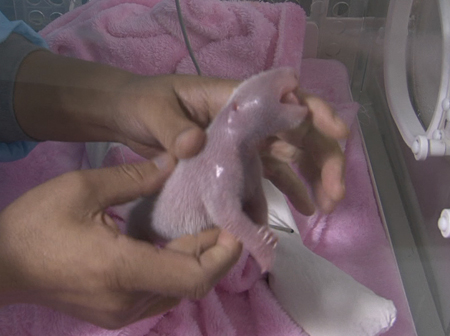 10-year-old giant panda Qing He gave birth to a male cub on August 4, 2011, at the Chengdu Research Base of Giant Panda Breeding. This birth came several hours after the successful delivery or twin cubs to Qi Zhen.
In spring Qing He mated with male pandas at the Chengdu Panda Base and was also artificially inseminated. The artificial insemination was performed as it was not clear if the matings had been successful.
After an approximate 100 day gestation period, her water broke at 18:30 on August 4th and at 19:52 she delivered a male cub. The newborn male weighs 165.8g.
Qing He was born in 2001. She was the first panda cub to be born after the announcement on July 13th, 2001 that Beijing had won the bid to host the 2008 Olympics. In honor of the big event, the Panda Base named her Qing He.
This cub is Qing He's first, which makes her the oldest panda among first litter pandas at the Panda Base. It is theorized that this is why her pregnancy and the delivery of her cub were difficult. Her prenatal signs were oddly similar to that of a human. When it was time for her water to break it only broke only after continuous effort was made to break it. Her labor was also difficult.
In spite of the difficult birth, both Qinghe and her cub are in good health.
Click here for more pictures.
Source: Chengdu Panda Base