< Go back
Samsung Everland Park signs a new giant panda agreement
Posted by Jeroen Jacobs | Date: 2015 11 02 | In: Everland Resort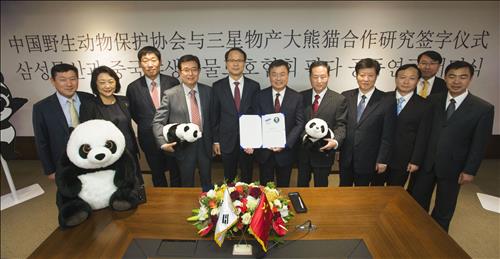 South Korea's biggest amusement park Samsung Everland Resort will welcome a pair of giant pandas from China in 2016.
The park's operator Samsung C&T Corp and China Wildlife Conservation Association (CWCA) signed an agreement on Friday for all-round preparation of giant pandas in South Korea.
CCRCGP will send a giant panda pair to the park and carry out co-research over the next 15 years, according to the agreement.
The president of Samsung C&T Corp said it would build a world-class destination for tourists and pandas to help foster bilateral relations.
It is said the pandas would meet the public during the park's 40 year anniversary in Spring.
Chinese President Xi Jinping made a state visit to South Korea in July last year. Since then, the two nations have designated Samsung Everland as a host for the animals. The park has started to establish a living space for the pandas since April this year.
Samsung Everland received golden monkeys from China in 2007 and conducted a joint research project of endangered species with CWCA.
Source: http://www.china.org.cn/environment/2015-11/03/content_36964666.htm