< Go back
Boarding Time for Tian Tian & Yang Guang
Posted by Jeroen Jacobs | Date: 2011 12 03 | In: RZSS Edinburgh Zoo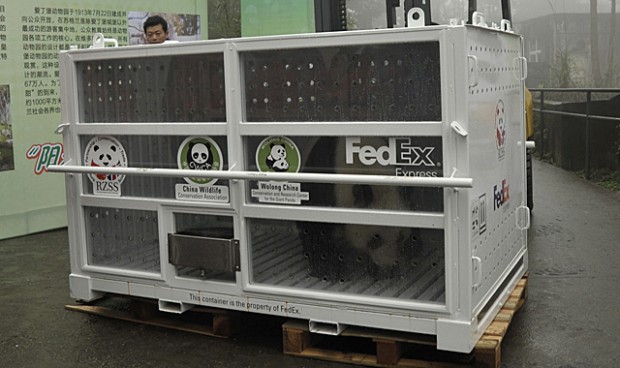 FedEx Express has announced that the specially chartered Boeing 777F flight carrying two giant pandas from Chengdu, China, to their new home in Scotland's Edinburgh Zoo is ready for departure on 4 December, 2011. Eight year-old female panda Tian Tian (甜甜, aka Sweetie), and eight year-old male panda Yang Guang (阳光, aka Sunshine), are due to depart on the flight known as the "FedEx Panda Express". The pandas' arrival marks the first time in more than 17 years that giant pandas will reside in the United Kingdom.
On board the "FedEx Panda Express", Tian Tian and Yang Guang will be travelling in the utmost comfort in two spacious, custom-built containers that provide a safe environment while allowing them to move around and observe their surroundings through the transparent Plexiglas. Throughout the flight, the pandas will be cared for and closely monitored by a veterinarian and two animal handlers from the Edinburgh Zoo and the Bifengxia Panda Base. FedEx Express personnel will also be on board to ensure that proper conditions are maintained in the aircraft from the moment the plane takes off to when it touches down in Scotland.
Throughout the journey, the pandas will be in the safe hands of seasoned management pilots, all of whom have extensive experience in transporting some of the world's most precious cargo, ranging from white rhinos to penguins.
"We are delighted to announce that the FedEx Panda Express is now ready for departure and will soon be making its momentous journey to the United Kingdom," said Gerald P. Leary, president, FedEx Express Europe, Middle East, Indian Subcontinent and Africa. "The specially-chartered flight, due to leave in the morning of 4 December, follows months of preparation and planning to ensure the pandas' travel is safe and comfortable at every stage of their journey."
One of the world's most modern and fuel efficient air freighters, the Boeing 777F, has been selected to transport the pandas to make their journey as efficient and pleasant as possible. Not only is the plane equipped with noise reduction technology that will mean Tian Tian and Yang Guang will enjoy a quieter ride; the plane's fuel efficiency means that the pandas will arrive at their new home in record time, without stopping to refuel.
The journey doesn't stop there: As the "FedEx Panda Express" touches down in Scotland, the pandas will be welcomed by FedEx Express experts on the ground who will transport them in a uniquely-decaled FedEx Express vehicle to the zoo. The FedEx Express truck will form part of a police escort to ensure maximum safety and security for the VIPs – Very Important Pandas. To follow Tian Tian and Yang Guang's journey on board the "FedEx Panda Express" visit: http://blog.fedex.com/panda-express.