< Go back
Xiao Liwu: Munching on bamboo
Posted by Jeroen Jacobs | Date: 2013 05 31 | In: San Diego Zoo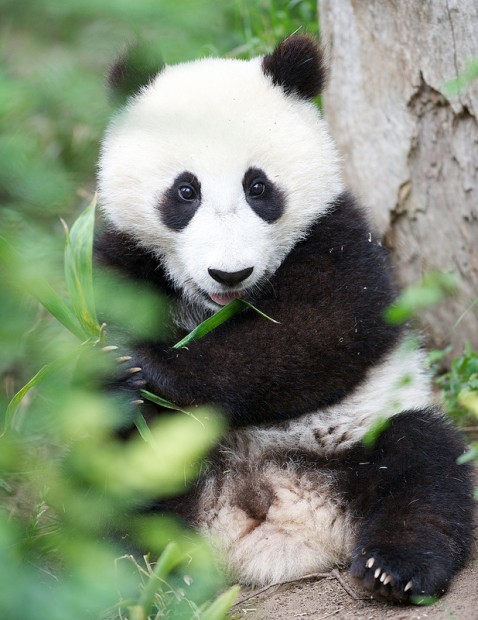 As San Diego Zoo's 10-month-old panda cub becomes more and more curious about what Mom is doing with her bamboo, they are beginning to see Xiao Liwu try to pick up the leaves and maneuver them with his little paws.
Here is an update by Anastasia Horning, a panda narrator at the San Diego Zoo:
Although panda cubs nurse the entire 18 months they are with Mom, they typically begin eating bamboo around 12 months of age.

While we all see adults like Bai Yun eating bamboo that can be incredibly thick, cubs cannot eat the bamboo culm right away. This is, in part, because it takes some practice for them to effectively strip the outside layer of the culm. Right now, when we see the cub with bamboo, we can see that he is trying to figure out how to get a grip on the culm and find a way to grab the leaves like Mom does.

In the many years that I have been watching and taking care of the bears, I've noticed that Bai Yun has a pretty good system for eating her food. From far away, it looks like she wastes a lot of the culm when she strips it, but as I began cleaning her enclosures, I noticed that she does a surprisingly good job at getting the most out of her food. There are times where it looks like she is rolling the bamboo leaves into a tight wad to eat like a candy bar.

One thing I always encourage our guests to check out if they're around while Bai Yun is eating is to watch her jaw muscles working. Even from afar, you can see the space between her ears flexing as she breaks the pieces apart. Something to observe the next time you are watching Panda Cam or here at the San Diego Zoo for a visit!
Source: San Diego Zoo
Photo Credit: Rita Petita @ flickr