< Go back
Shin Shin is unlikely to be pregnant
Posted by Jeroen Jacobs | Date: 2013 06 26 | In: Ueno Zoo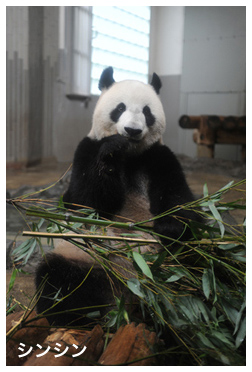 Shin Shin, the female giant panda at Ueno Zoo, is highly unlikely to be pregnant. She isn't showing the conditions usually observed before pandas give birth.
Shin Shin was removed from public viewing since June 4, 2013 because zoo workers suspected she might be pregnant. She and male panda Ri Ri, both 7 years old, were confirmed to have mated in March, raising hopes for a cub.
Kiyoshi Nagai said that Shin Shin's progestational hormone level was low enough for delivery with 1.0 nanogram per milliliter as of last Thursday.
He said the zoo hasn't completely ruled out the possibility that Shin Shin is pregnant and added that observations will continue for the time being.
False pregnancies are a physiological phenomenon according to the Tokyo Zoological Park Society. Once an egg is released, a panda goes through the same process as in a pregnancy, even it doesn't lead to delivery of a cub.
The pair of giant pandas had a cub last July, the first time in 24 years a cub was born at Ueno Zoo, but the newborn died of pneumonia just six days after birth.
Source: Ueno Zoo