< Go back
Mei Lun & Mei Huan will become an independent duo
Posted by Jeroen Jacobs | Date: 2015 01 30 | In: Zoo Atlanta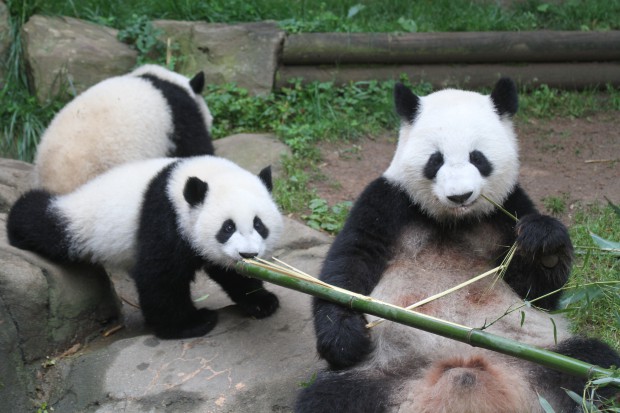 America's only giant panda twins will soon be an independent duo
America's only twin giant pandas will soon embark on the start of an important milestone: independence from mother Lun Lun. The weaning process for Mei Lun and Mei Huan is set to begin on February 2, 2015. The twins will continue to be housed together following weaning.
At 17 months old, Mei Lun and Mei Huan are at the average age at which giant panda cubs are typically observed being weaned in the wild. The Animal Management Team uses a stepwise process, developed by partners at San Diego Zoo Global and used successfully with the weaning of the twins' older brothers, Mei Lan and Xi Lan, and sister Po. The roughly two-week process, which will conclude around February 17, focuses on gradually increasing the amount of time mother and cubs spend apart. Lun Lun, Mei Lun and Mei Huan will all be provided with extra enrichment during this time, and animal care staff will continue to monitor their behavior during their separations and reunions.
"We know from the experiences of their three older siblings that we have an effective approach that helps ensure a smooth transition for the cubs and their mom," said Hayley Murphy, DVM, Senior Director of Animal Health. "We know this can be a nostalgic milestone for the cubs' fans, but it's more important to remember that this is a natural and necessary transition in the life of any young mammal, particularly for species that don't have social lifestyles in the wild."
Giant pandas are a solitary species, and the young are usually weaned and living apart from their mothers before they're 2 years old. Mei Lun and Mei Huan are both eating large quantities of bamboo, leafeater biscuits and fruit, with only occasional bouts of nursing, and have been weaned from their supplementary bottle feedings since December 2014. According to data from Zoo Atlanta, other partner institutions, and information about wild giant pandas, Mei Lun and Mei Huan are at the appropriate age to make a healthy transition to a completely solid diet.
Once the weaning process is complete, Mei Lun and Mei Huan will occupy their own separate habitat. It is hoped that Lun Lun will experience her annual estrus in late March or early April, within the normal timeframe of giant panda breeding season.
"Acting in the animals' best interest is our top priority at Zoo Atlanta. Our Animal Management and Veterinary Teams have several years of experience in ensuring a seamless weaning process for giant panda cubs, and I have confidence that this transition is being made with the highest level of care and commitment," said Raymond B. King, President and CEO. "We look forward to Mei Lun's and Mei Huan's next chapter of adventures as they reach this exciting milestone."
Mei Lun and Mei Huan are the fourth and fifth offspring of Lun Lun and Yang Yang. Their three previous offspring, 8-year-old Mei Lan, 6-year-old Xi Lan, and 4-year-old Po, now reside at the Chengdu Research Base of Giant Panda Breeding in China.
Source: Zoo Atlanta