< Go back
Adelaide Zoo prepares for next breeding season
Posted by Jeroen Jacobs | Date: 2012 08 28 | In: Adelaide Zoo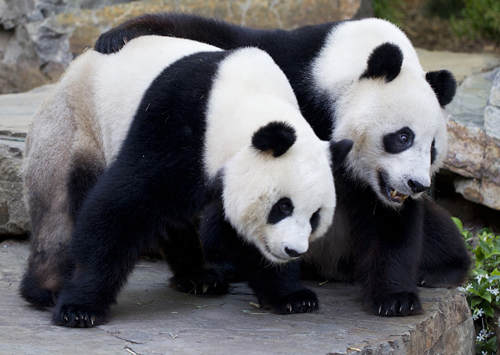 With the 2012 Giant Panda breeding season now complete plans are underway for the use of artificial insemination in 2013.
Although Wang Wang and Funi are clearly a compatible pair, young age and inexperience has prevented a successful mating in their two breeding seasons to date.
Senior Panda Keeper, Simone Davey, said the team have again seen positive interactions from the pair, especially Funi who exhibited all the right mating behaviours.
"Wang Wang is about to turn seven and Funi has only just turned six so it's quite normal that they have not mated naturally," Simone said.
"At this point the most exciting thing for us is to see the continued positive interactions between them. Like last year Funi has been great, exhibiting all the right mating behaviours and Wang Wang has shown a vast improvement based on what we saw from him this time last year."
With the experience of two breeding seasons now documented 2013 is the perfect time to employ the additional support of artificial insemination.
This process would be used in conjunction with natural mating attempts and would take place even if a successful mating does occur.
"Discussions can now begin to ensure artificial insemination experts are on site for the 2013 Giant Panda breeding season." Simone said.
Giant Pandas are seen as ambassadors for conservation and with fewer than 1,600 remaining in the wild Wang Wang and Funi are an important part of the global insurance population.
Adelaide Zoo's panda exhibit is open to the public as of today, Tuesday, August 28, with both pandas on display.
Source: Adelaide Zoo