< Go back
Panda-Palooza! 2012 Held in San Diego
Posted by Jeroen Jacobs | Date: 2012 04 02 | In: San Diego Zoo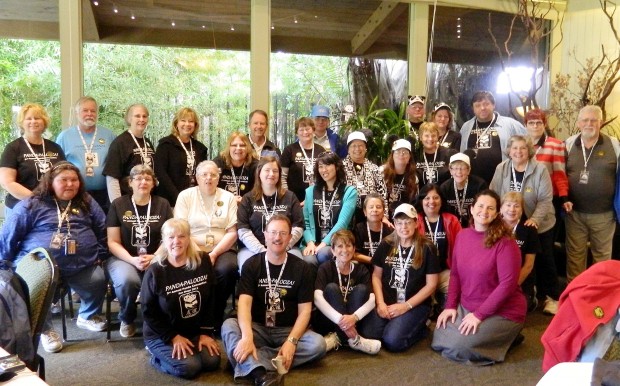 For the third year in a row, a group of people who share their love and passion for giant pandas gathered in San Diego for their annual convention. This year's event, called Panda-Palooza!, took place on March 24 and 25, 2012. Here is a report by Velia Watts, one of the organisators of Panda-Palooza:
The gathering brought together over 30 "pandaholics", some from as far away as Canada, Alaska, Washington D.C., Arizona, Washington state and Maryland; still others came from other parts of California including San Diego, of course.
Our main activity took place on Saturday morning at the San Diego Zoo where we were allowed entry to Panda Canyon half an hour before the zoo's official opening time. As we watched Bai Yun and Gao Gao chomp away on their breakfast bamboo, one of the zoo's panda narrators joined the group to answer questions and provide commentary on the bears. Unfortunately, the zoo's two-and-a-half-year-old cub, Yun Zi was off exhibit, much to our disappointment.
Following our "private visit" with the pandas, we gathered in one of the zoo's meeting rooms to enjoy a catered breakfast and view a presentation by one of the zoo's senior researchers. We had been eagerly awaiting this presentation as it focused mainly on the mating of Bai Yun and Gao Gao which had taken place just the weekend before. The presentation was superb! Listening to her give us a detailed, almost minute-by-minute account of the "mating weekend", we felt as if we had been right there with the zoo staff and the bears! Needless to say, we peppered her with questions at the end of her presentation. We certainly knew much more about pandas by the time we were done.
Soon, we were called to board the bus for our private zoo tour. Our most gracious bus driver and guide took us on a route which allowed us to visit other key exhibits as he narrated interesting facts about each of the creatures we saw – and there were many. Our guide also emphasized that the San Diego Zoo was not just a showcase for animals of all kinds; it also is home to a very extensive collection and display of tree and plant species. Before we knew it, our morning had ended and the panda fans parted ways, reminding each other with a "see you tonight."
"Tonight" meant the reception and panda celebration which we held at our convention hotel on the Saturday evening. The room was decorated with panda balloons; panda cartoons by Bob T. Panda were everywhere. Everyone came dressed in black and white. Some of us brought panda crafts and panda mementos. We had door prizes, fun activities and "awards" to recognize certain giant panda fan attributes and achievements. Best of all, we mingled and got to know each other better. Then it was time to bid each other goodnight and "see you tomorrow".
"Tomorrow" was Sunday – early in the morning we piled into various cars and drove to the San Diego Zoo Safari Park – a marvelous facility with wide open spaces for the animals to graze and roam as if they were right at home. It was a chance to enjoy the beautiful sunny morning before the forecasted winds and showers descended on San Diego. Sunday evening, a group of panda fans topped off the convention with dinner at one of San Diego's great Mexican restaurants (something that has become a tradition during the panda convention). All too soon, it was time to say goodbye to friends, fellow panda fans, both old and new, with parting words like "stay in touch" and "see you on Facebook and on the blogs". We had all enjoyed another successful giant panda convention!
Panda-Palooza was organised by Velia Watts, Diana Sutton, Donna Grund, Carolyn Comings & Laurie Mott.