< Go back
Zoo Atlanta's twins named Mei Lun & Mei Huan
Posted by Jeroen Jacobs | Date: 2013 10 23 | In: Zoo Atlanta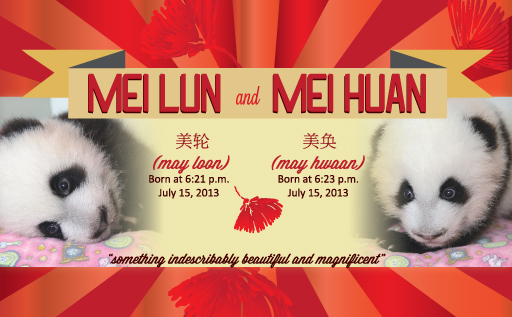 One hundred days of "Cub A" and "Cub B" are over at Zoo Atlanta, and the twin giant panda cubs have officially been named Mei Lun and Mei Huan. The names, which originate from a Chinese idiom meaning "something indescribably beautiful and magnificent," were announced via live broadcast on Good Morning America on October 23, 2013.
"We're delighted to finally be able to place names with two youngsters who have not only made an indelible mark on the history of Zoo Atlanta, but who have also made history in the U.S. We're excited to have partnered with Good Morning America on bringing the celebration of their names to a national audience," said Raymond B. King, President and CEO. "We share this joy with our colleagues in China and with the cubs' fans around the world."
The winning names were selected by national vote from five sets of monikers provided by partners at the Chengdu Research Base of Giant Panda Breeding in China. Hosted online through Good Morning America, the voting contest opened on October 9, 2013, and closed on October 21, 2013, with over 51,000 votes nationwide.
The 100 Day Celebration follows an ancient Chinese tradition that holds that when a child reaches his or her 100th day of life, he or she has survived the risky fragility of infancy and may be considered on track for a successful future. Mei Lun's and Mei Huan's older brothers, Mei Lan, Xi Lan and Po, were also named according to this tradition.
Source: www.ZooAtlanta.org