< Go back
Happy First Birthday Mei Lun & Mei Huan
Posted by Jeroen Jacobs | Date: 2014 07 16 | In: Zoo Atlanta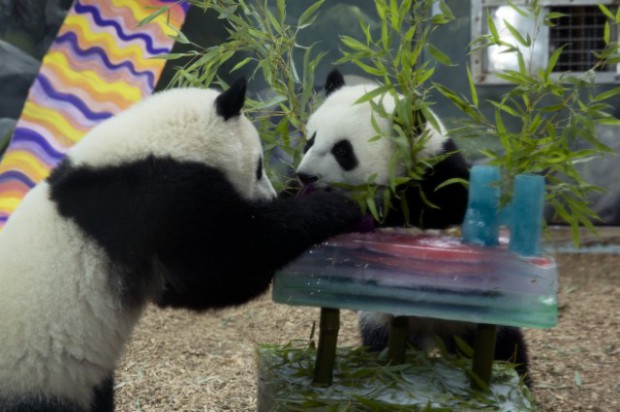 Mei Lun & Mei Huan celebrated their first birthday on July 15, 2014. Did you miss the girls' birthday celebration? No worries, Jen Webb, Keeper II, has a recap for all panda fans:
"Tuesday was a big day in Pandaland! Our 'little' munchkins turned 1! For their big day, the twins got to enjoy their hand-crafted ice cakes and painted present boxes for a little while before Mom came out to check on things. Each cub got their own two-tiered birthday cake, which was made out of frozen water with food coloring and bamboo poles. As a cake topper, each one had a frozen number 1 with bananas inside. Also, each cake had the girls' initals made out of frozen water with food coloring and vanilla extract. In the painted gift boxes were two brand-new jolly balls that the girls love to play with.

All of our cubs have enjoyed ice cakes, but I love how much these girls went nuts! Mei Huan, our resident ice-obsessed giant panda cub, made a beeline for the cakes while her sister hung back. After dismantling her own cake, Mei Huan decided her cake needed a new topper and sat her cute little body right on top. After the excitement of the cakes wore off, the girls went oddly nuts over the new hammock we hung. The hammock isn't new new, but it was a one of the backup ones we rotate in their exhibit. This time, we hung it a little higher, and I think that is what the girls got super-excited over because it was a little more challenging to climb into. After that, the boxes got destroyed, jolly balls were played with, and after a wrestling match on the structure, both girls collapsed into a well-deserved nap after all of the morning's excitement.

I hope everyone enjoyed the festivities!