< Go back
Fu Bao celebrates her first birthday
Posted by Jeroen Jacobs | Date: 2021 07 20 | In: Everland Resort
Fu Bao, the first giant panda born in South Korea, celebrated her first birthday on July 20, 2021. She has grown a lot in the last year and learned from her mother the things a panda needs to know.
When panda mom Ai Bao gave birth last summer, her baby measured just 16.5 cm in length and weighed no more than 197 grams. On her first birthday she tipped the scales at a heavy 40.6 kilograms, more than 200 times her weight at birth.

On her special day on July 20, Fu Bao's zookeepers joined her in the enclosure for a quiet celebration with some tasty treats. At a Korean first birthday, it is customary that the baby be seated in front of various objects. Whichever item is grasped first predicts the course of that baby's future. For example, if the youngster picks up money, he or she will become rich; if a stethoscope is seized, the baby will grow up to be a doctor, and so on.
For Fu Bao's first birthday, more panda-appropriate things were laid out before her: apples symbolizing popularity, bamboo standing for long life, carrots for good health, and a piece of Chinese cornbread, or wotou, for happiness. After an initial playful wrestle with her keeper, Fu Bao grabbed the wotou with both paws, aligning her destiny with her name, which means a treasure that brings happiness.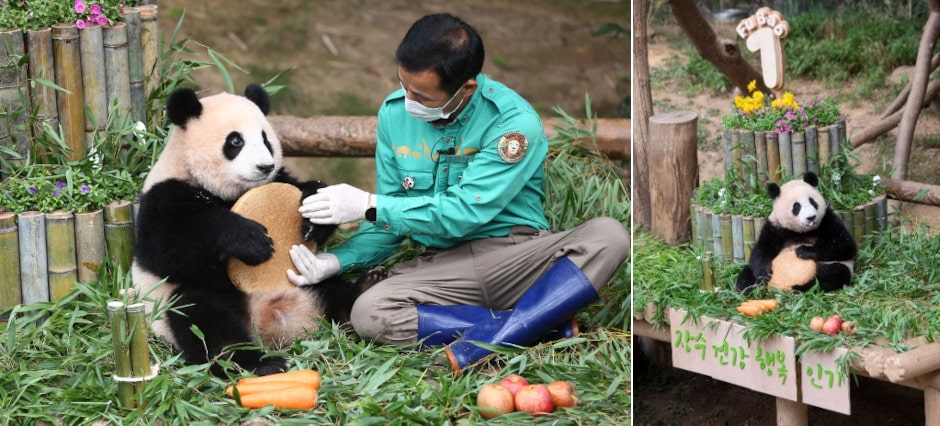 Source: Samsung