< Go back
Lan Bao returns to Lanzhou after two years treatment in Xi'an
Posted by Jeroen Jacobs | Date: 2012 05 01 | In: Lanzhou Zoo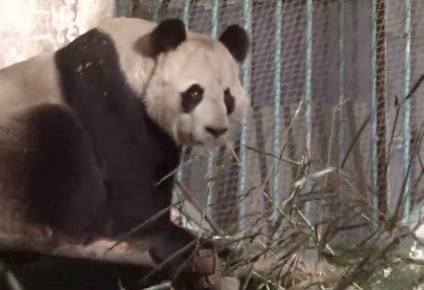 A giant panda raised by the Lanzhou Zoo returned home on Tuesday night after spending two year's medical leave in Xi'an of northwest China's Shaanxi Province.
The giant panda, named Lanbao, weighed 63.4 kilograms and stood 65 centimeters upon its return, a status of his healthy condition.
"After receiving medical treatment in Xi'an, his health condition has turned much better. Moreover, the set time for medical treatment is up, so we got him back," said Xiao Jinde, chief feeder at the Lanzhou Zoo.
"We've been preparing for his come back, such as sanitizing his bedroom, and contacting our bamboo suppliers. He will love the bamboo, because it's fresh," Xiao Jinde added.
Lanbao might need some time to get used to his own "home", as he has been gone for quite a long time. Lanbao along with his brother, Lanzai, are very likely to meet Lanzhou residents during the May Day holiday period.
The brothers were sent to be raised at the Lanzhou Zoo when they were aged one. Unlike his own brother, Lanbao was weak and often fell sick. He was sent to Xi'an for better medical treatment in 2010.
Source: CCTV