< Go back
Ru Yi & Ding Ding arrive in Moscow
Posted by Jeroen Jacobs | Date: 2019 04 30 | In: Moscow Zoo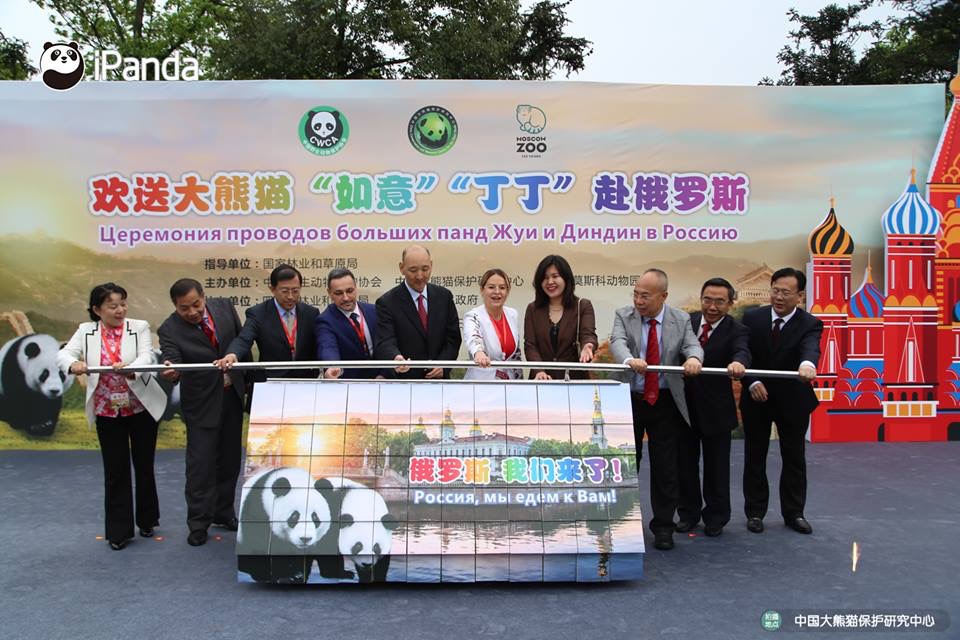 A pair of giant pandas from southwest China's Sichuan Province on Monday arrived in Moscow, where they will stay for a 15-year scientific program.
The pandas, Ru Yi and Ding Ding, arrived at the Zhukovsky International Airport at around 19:00 local time (1600 GMT) after a nine-hour flight accompanied by their caretaker Wang Pingfeng and veterinarian He Ming from the China Conservation and Research Center for the Giant Panda (CCRCGP).
A variety of food including buns, bamboo sprouts, carrots and baby formula had been prepared for the pandas to keep them calm and comfortable and avoid any stress symptoms during the journey, CCRCGP staff said.
Ru Yi, a three-year-old male, and Ding Ding, a two-year-old female, will spend 15 years at the Moscow Zoo participating in a collaborative research, according to an agreement signed between the Moscow Zoo and the China Wildlife Conservation Association in February.
A large group of scientists, zoologists and keepers will participate in the program, and two employees from China will stay in the zoo for at least 120 days annually throughout the 15 years. Chinese staff, along with Russian experts, will take good care of the pandas and help them get accustomed to their new life.
The Moscow Zoo has rebuilt its existing enclosure to house the pandas in separate suites consisting of an indoor and an outdoor space equipped with swimming pools, drinking bowls and entertainment tools, the zoo's General Director Svetlana Akulova said.
Special rooms have been arranged for food preservation and preparation as well as monitoring the pandas' activities.
In addition, the zoo will make regular orders of bamboo from Sichuan and also get bamboo from places within Russia so that the pandas have multiple choices when it comes to their food.
The pandas are seen as "a symbol of friendship" between the two peoples as Russia and China celebrate the 70th anniversary of their diplomatic ties this year.
This is the second time a pair of giant pandas from Sichuan have been sent to Moscow. In 1957, the Moscow Zoo received a pair of giant pandas from Baoxing County.