< Go back
Will the giant pandas return to Calgary?
Posted by Jeroen Jacobs | Date: 2010 06 08 | In: Calgary Zoo, Granby Zoo, Toronto Zoo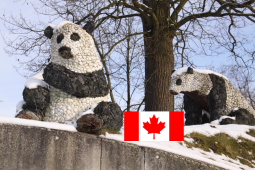 They left town more than 20 years ago, but some beloved bamboo-chomping guests could be returning to Calgary.
The Calgary Zoo is one of three organizations that have begun the delicate process of hashing out a deal with Chinese authorities to bring giant pandas back to Canada.
Discussions have been underway among zoos in Calgary, Toronto and Granby for roughly six months about the possibility of acquiring the pandas on loan from China. It would possibly be a sort of sharing arrangement with each zoo keeping the pandas for a specific period of time.
The bid took a major step forward last month during a trade mission to China, when Treasury Board president Stockwell Day presented a panda proposal to a high-ranking Chinese politician.
Alberta Premier Ed Stelmach, who also attended the meeting, has thrown his support behind the efforts
Read more: http://www.calgaryherald.com/business/energy-resources/Calgary+bids+return+giant+pandas/3115631/story.html#ixzz0qI78zE2G