< Go back
Mexican pandas to be artificially inseminated in 2012
Posted by Jeroen Jacobs | Date: 2011 05 31 | In: Chapultepec Zoo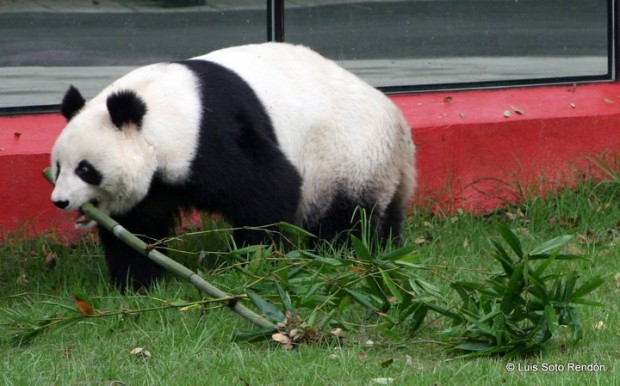 Two pandas in Mexico, ages 20 and 23, will undergo a plan of artificial insemination for which scientists will use frozen semen obtained from pandas in China, the Federal District Environment Secretariat said.
The experts seek to impregnate Shuan Shuan, 23, and Xin Xin, 20, which together with Xiu Hua, 25, are the three females living at Mexico City's Chapultepec Zoo.
All three are descendents of a pair of pandas given to Mexico by China in 1975.
The Strategic Plan for the Conservation of the Giant Panda establishes the insemination of these two pandas during the reproductive seasons of 2012 and 2013, when a team of Chinese specialists will visit Mexico to work with the experts at Chapultepec.
The scientists will monitor the reproductive hormones of the females, evaluate their behavioral changes and apply cutting-edge technology to inseminate them, the secretariat said.
Due to the advanced age of the two pandas, "the probability of reproductive success is low. Nonetheless, in the absence of a male specimen, artificial insemination is the most viable option," the secretariat said.
The accord between the two parties states that if a cub should be born, it will be the property of the Chinese government but will remain at the Chapultepec Zoo.
If the insemination is unsuccessful, the Mexican zoo will ask China for "the donation of a reproductive partner" in order to continue having pandas, the secretariat said.
The program for panda reproduction in Mexico "has been highly successful at both the national and international level, with the first birth (in 1981) of this species outside of China and obtaining eight cubs in all, of which five reached adulthood, the secretariat said.
Source: China Daily & FoxNews Latino