< Go back
Po visits the triplets
Posted by Jeroen Jacobs | Date: 2015 12 01 | In: Chimelong Safari Park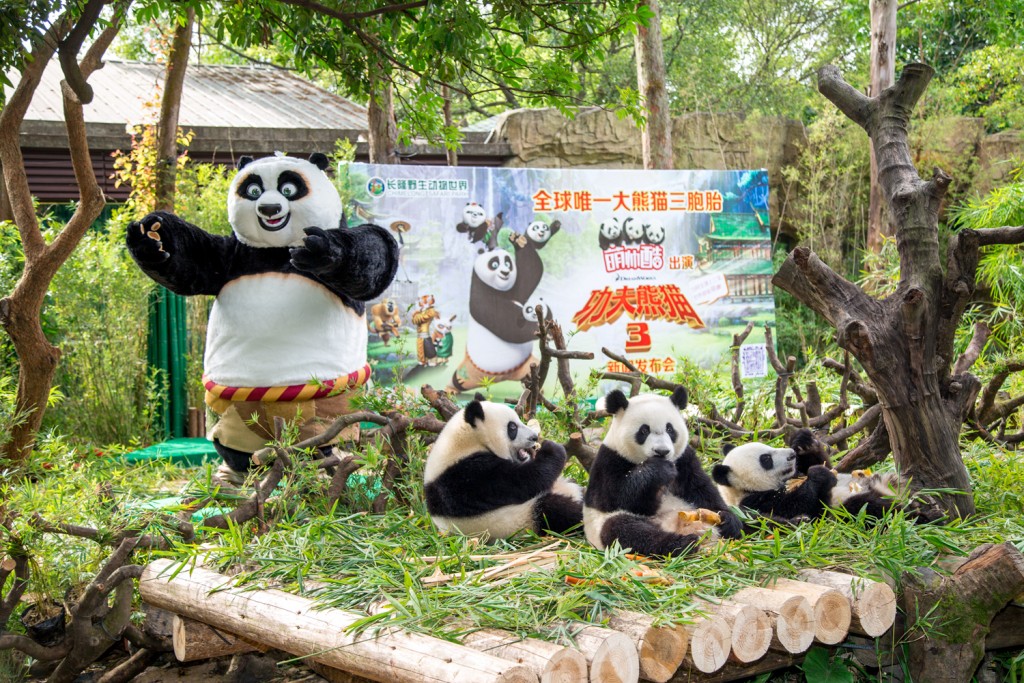 The animation film "Kung Fu Panda" created box office miracle globally. A third movie in the series is coming soon following the heat of the first two runs. Co-produced by DreamWorks Animation (US), DreamWorks Oriental and China Film Group Corporation, "Kung Fu Panda 3" will debut on the big screen in China on 19 January 2016. It was reported that China's box office collection for "Kung Fu Panda 2" was RMB 617 million.
Those who have watched the "Kung Fu Panda" movie series will have deep impression of the brave and honest protagonist Kung Fu Panda named Po. It was understood that "Kung Fu Panda 3" is a story about Po meeting his long-lost father and their returning to the Panda Village to find their roots. What is particularly worthy for the audience and panda fans is that the world's only giant panda triplets – Chimelong's MengMeng, ShuaiShuai and KuKu – starred in this animation blockbuster. They will certainly become world idols after their debut in this movie. It is another world-first where world-class animal stars from a theme park participate in a blockbuster movie production in a "world-class cooperation."
On November 26, 2015, Po made his appearance in the real "Panda Village" – the Panda Centre of Guangzhou Chimelong Safari Park – to visit 14 of his "folks", especially MengMeng, ShuaiShuai and Kuku who have been living here.
Po brought with him something that would be familiar to every "Kung Fu Panda" fans – the buns. The buns have become the cliché for good life deep in the memory of many "Kung Fu Panda" fans; and Po had specially prepared buns for the real panda triplets as gift. It is reported that the "special buns for the triplets" were stuffed with ingredients and nutrients specifically designed for the giant pandas.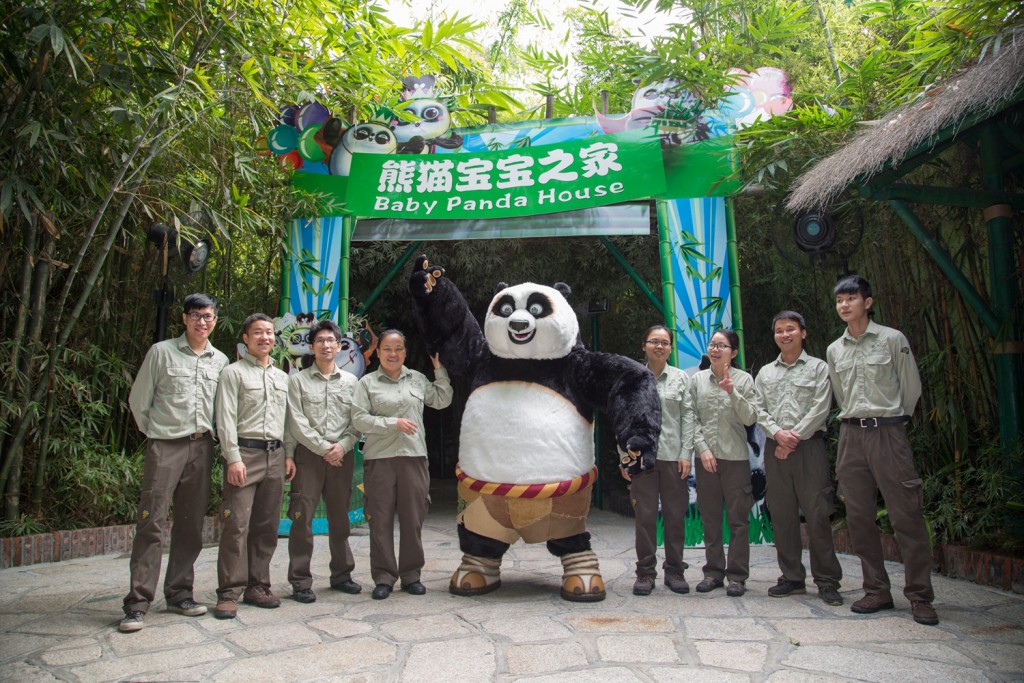 The close interaction between Po and the giant panda triplets left a deep impression on our audience. Encouraged by the warm, jovial and loving atmosphere during the visit, Po began to showcase his kung fu skills and offered to teach the giant panda triplets some of his unique moves. The audience present was immersed in "Panda Village" just as though they were in the movie "Kung Fu Panda 3". Congregation of the cute "Four Treasures" will certainly become the classic scene in the media industry.
DreamWorks Oriental said that by including the giant panda triplets in "Kung Fu Panda 3", it will give the movie more distinctive Chinese elements. In addition, DreamWorks Oriental also looks forward to partnering with more local organizations like Chimelong to explore new cooperation mechanism appropriate for the Chinese market and provide a wider range of family entertainment options to consumers in China and around the world.
The triplets' "starring" in a blockbuster movie added valuable cultural industry experience for Chinese theme parks.
Chimelong Group has always been committed to focusing its core resources on developing animation products of independent intellectual property rights. Cartoon characters like Tiger "Kaka", "Kiki" and "Bobby" are typical examples. In May this year, the world's largest 5D cinema made its debut in Chimelong Ocean Kingdom and commenced screening "Kaka's adventure", an animation movie with independent intellectual property rights solely produced by Chimelong Group. The event caught the attention of and drew accolades from the animation industry. The movie, a flawless application of technology in the creation of independent intellectual property rights and featuring "Kaka" as the protagonist in an inspirational story, attracted thousands of audiences each day.
In response to giant panda triplets' "starring" in international top-class animation production "Kung Fu Panda 3", Chimelong Group said that such participation will be a booster for the animation culture industry and will add valuable international experience for Chimelong Group and other theme parks in China.
Obviously, since their birth on 29 July 2014, the world's only giant panda triplets in Chimelong have become one of the hallmarks of Guangzhou tourism. Moreover, Chimelong's achievement and influence in the field of animal-breeding has also attracted worldwide attention. The triplets' participation in world-renowned animation film "Kung Fu Panda 3" will further enable them to showcase their lovely image to the world and inevitably boost their reputation to attract even more attention. Such attention on the three cute little rascals shows that their influence is not only restricted to the tourism industry but also the cultural industry. With their movie debut, the three animal stars that were born and grew up in Guangzhou and emanating rich styles of the Chinese National Treasures, have become world-renowned animal movie stars. Similarly, Chimelong's brand value was further enhanced in the process. If we consider continued winning of industrial awards and achievement of Guinness World Records as a form of recognition, then cross-border cooperation with world-renowned cultural production such as "Kung Fu Panda 3" can be viewed as another form of recognition as Chimelong brand marches into the global market.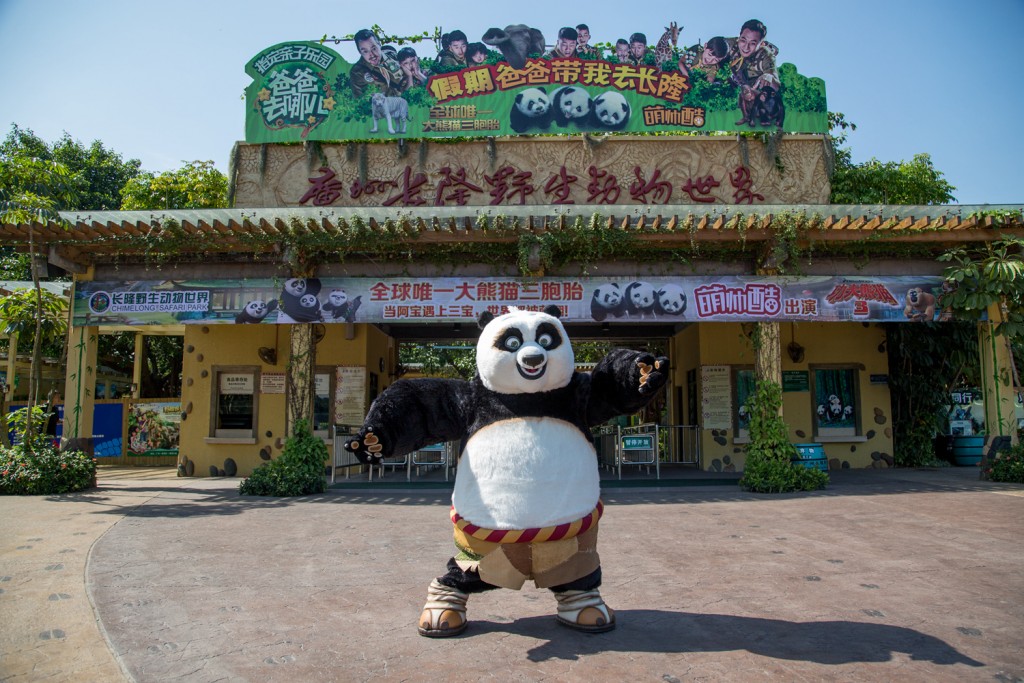 Source: Chimelong Safari Park