< Go back
San Diego Panda Canyon changes
Posted by Jeroen Jacobs | Date: 2011 03 10 | In: San Diego Zoo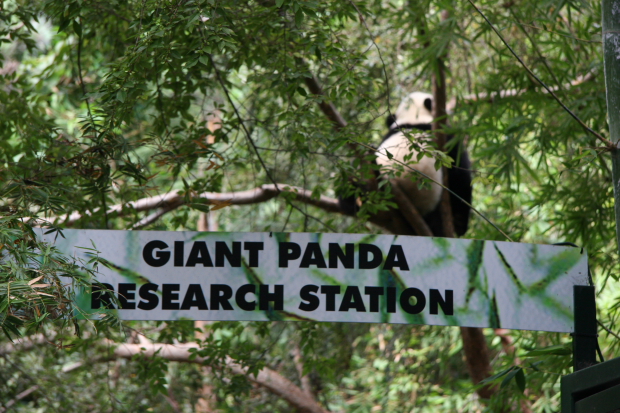 It's two weeks into the construction of a new exhibit area in the San Diego Zoo's Panda Canyon, which will extend into the giant panda viewing area and bring together (but not in the same enclosure!) the scaly, feathered, and furry from the panda's home region. It'll be like a reconstruction of "the old neighborhood," where animals of many species live in proximity, as they would in the wild.
What's happening? Well, a new construction fence has been erected, replacing the beloved, but temporary, panda mural wall and allowing even more space to work in. Old concrete works were removed, perching and climbing material stored there was moved to another area, and the beginnings of the pathways graded while maintaining some of the larger trees. It was pretty noisy, but it's exciting to watch the area beginning to take shape.
And what about the bears? Little Yun Zi is now being housed off exhibit in a completely shielded area as far away from the noise as he can be. Longtime Zoo visitors may remember Shi Shi's old exhibit: that's where Yunnie is now. While he is not on exhibit right now, guests may occasionally catch a glimpse of him climbing a tree or strolling about his enclosure from across the street on the elevated walkway's U-turn (this walkway leads from Lost Forest to Panda Canyon).
Bai Yun and Gao Gao remain in the main viewing area. On noisier days, Bai does have access to her exhibit bedroom, and she is free to move inside. This does take her out of view, but it is quieter, and we appreciate our guests' understanding her need for quiet. Since spring and the potential of an estrus and mating season are coming, she's being carefully monitored by researchers and keepers.
Gao remains in his far-right exhibit and seems unbothered by it all. He's well protected from the noise and has plenty of bamboo, of course, so he's just fine. Both of the adult pandas recently completed their annual checkups. And Gao has been scent marking and vocalizing—to lure the keepers or Bai Yun? It's encouraging, but we don't know for sure just yet. The answer to this question will reveal itself in time, so we all have to be patient.
Rest assured, however, that should estrus begin and a mating season be possible, the animal care staff will put the needs of the pandas above all; isn't that always the way in Panda Canyon?
Ellie Rosenbaum (a panda narrator at the San Diego Zoo)
Source: San Diego Zoo