< Go back
Fu Hu Naming Ceremony
Posted by Jeroen Jacobs | Date: 2010 12 13 | In: Tiergarten Schönbrunn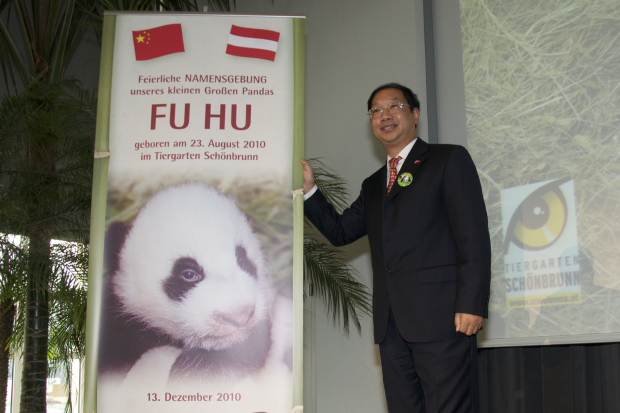 Today it became official: Tiergarten Schönbrunn / Zoo Vienna's newest panda cub is named Fu Hu. His name means Lucky Tiger in Chinese. Reinhold Mitterlehner, Austria's minister of economics, became his godfather. Mitterlehner sees the Naming Ceremony as a symbol of the excellent cultural and economic relations between China & Austria.
Shi Mingde, the Chinese ambassador in Austria revealed the panda cub's name.
Zang Chunlin, Secretary-General of the China Wildlife Conservation Association, said that the Chinese compare healthy boys often with tigers and that they wish that Fu Hu will grow up like small happy tiger. He also hopes the cub will bring much joy to the visitors of Zoo Vienna.
Fu Hu is still in the birthing den and his keepers are observing frequent crawling attempts. The door from the birthing den to the public viewing area is open. It will depend on Fu Hu himself when he will be seen by the public, said head panda keeper Dr. Eveline Dungl.
Photo Source: Jutta Kirchner – www.juttakirchner.com
You can see more pictures of the Naming Ceremony on Jutta Kirchner's website