< Go back
Departure date set for Mei Lun and Mei Huan
Posted by Jeroen Jacobs | Date: 2016 10 20 | In: Zoo Atlanta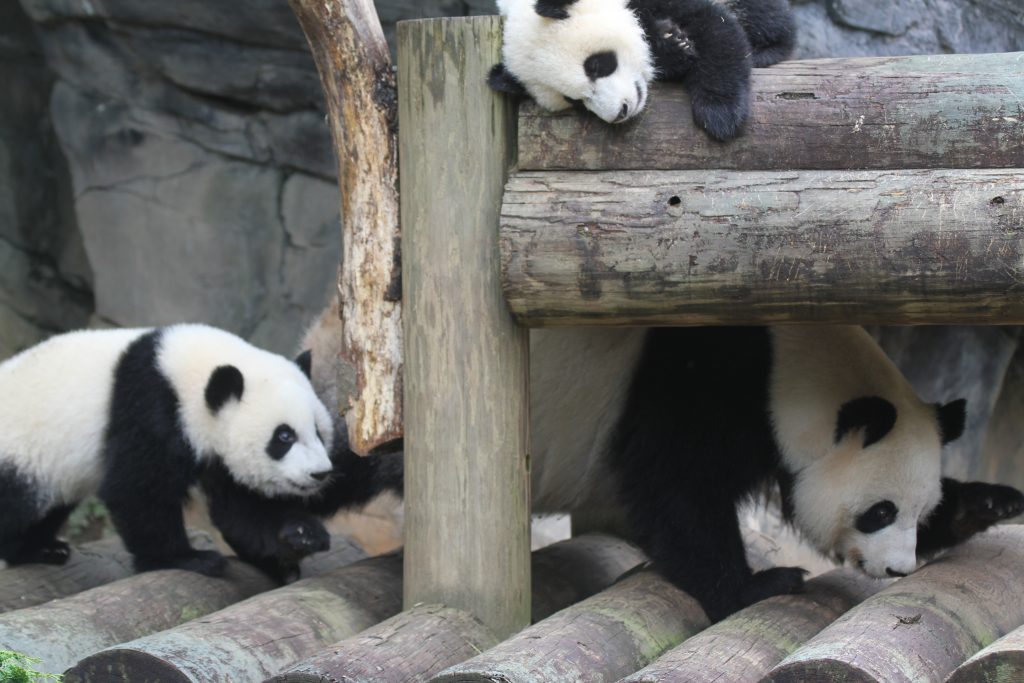 Mei Lun and Mei Huan, the first surviving pair of giant panda twins ever born in the U.S., will depart Atlanta on November 3, 2016, for the Chengdu Research Base of Giant Panda Breeding in China. In one of the most important milestones in the life of an American-born panda, the twins, now 3 years old, will follow in the footsteps of their older siblings as they prepare to journey to their parents' birthplace.
As is the case at all four U.S. zoos housing the species, the giant pandas at Zoo Atlanta are on loan from China. As part of the Zoo's loan agreement, all of the offspring of adult pair Lun Lun and Yang Yang eventually travel to China when they are of age. Mei Lun and Mei Huan, who will be the fourth and fifth Zoo Atlanta-born pandas to make the trip, will be accompanied on their flight by two Zoo Atlanta staff.
"Zoo Atlanta is proud and honored to have been Mei Lun's and Mei Huan's stewards for their first three years," said Raymond B. King, President and CEO. "While it's always bittersweet to say goodbye, they travel to join the Zoo's partner in giant panda conservation, the Chengdu Research Base, where they will hopefully make their own contributions to the global population of giant pandas. We invite all of their friends and fans to visit them and celebrate this important next chapter in their lives."
Giant pandas are a solitary species and are weaned from their mothers by the time they are around 18 months old. Mei Lun and Mei Huan have been living apart from their mother Lun Lun since February 2015 and at 3 years old, are ready for this next step in terms of both their age and behavior.
Giant pandas represent Zoo Atlanta's most significant long-term financial investment in wildlife conservation. The Zoo has contributed over $10 million in sustained support for wild giant pandas. The International Union for the Conservation of Nature (IUCN) upgraded the giant panda's status from "endangered" to "vulnerable" in September 2016, but the species remains heavily reliant on conservation programs. Fewer than 1,900 giant pandas are estimated to remain in the wild in China's Sichuan, Shaanxi and Gansu provinces, where they face continuing threats from habitat fragmentation and habitat loss as a result of deforestation and other human activities. More than 1,200 of China's remaining wild giant pandas live inside nature reserves, eight of which are supported by Zoo Atlanta.
Mei Lun and Mei Huan will enjoy special travel-themed enrichment surprises in their habitat in The Arthur M. Blank Family Foundation Giant Panda Conservation Center at 1:30 p.m. on Sunday, October 30, during Boo at the Zoo presented by Georgia Natural Gas. Fans can sign Bon Voyage postcards for the pair on Saturday and Sunday, October 29 and 30, from 9:30 a.m. to 3 p.m.
Catch up with Mei Lun and Mei Huan during #MeiDays on PandaCam hosted by Animal Planet L!VE, Noon to 2 p.m. EST on Tuesdays and Thursdays through November 1 on zooatlanta.org/pandacam. Zoo Atlanta will host a Facebook Live event featuring Mei Lun's and Mei Huan's care team on October 27.
Born July 15, 2013, Mei Lun and Mei Huan, whose names originate from a Chinese idiom meaning "something indescribably beautiful and magnificent," are the fourth and fifth offspring of 19-year-old adults Lun Lun and Yang Yang. The pair's first offspring, Mei Lan (born September 6, 2006), traveled to China in 2010. Their second and third cubs, Xi Lan (born August 30, 2008) and Po (born November 3, 2010), made the trip in 2014.
Mei Lun's and Mei Huan's 6-week-old siblings, a second pair of twins born to Lun Lun on September 3, 2016, remain behind the scenes as they continue to achieve a number of milestones of their own, including opening eyes. The cubs are expected to make their debut in December 2016 or January 2017.
Source: Zoo Atlanta