< Go back
Auckland Zoo interested in kiwi/panda deal
Posted by Jeroen Jacobs | Date: 2010 06 29 | In: Auckland Zoo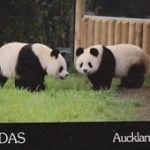 Auckland Zoo has not ruled out acquiring a giant panda, after Prime Minister John Key revealed he hopes to broker a pandas-for-kiwi deal with the Chinese Government.
A spokeswoman yesterday told the Herald the zoo would be happy to consider any offers to host pandas, despite reports in a Sunday paper that it had "turned up its nose" at the prospect.
Pandas cannot be bought. They must be rented from the Chinese Government at a cost of about $1.4 million a year. Contracts usually last 10 years.
The bears are expensive to keep, costing about five times as much as elephants, the next-most-expensive animal. They require at least three keepers, and can eat up to 40kg of bamboo shoots daily.
Auckland Regional Council chairman Mike Lee yesterday said it would be "irresponsible" of the zoo to turn down the offer, as pandas would be a tourist attraction.
The only pandas in the Southern Hemisphere are at Adelaide Zoo, where visitor numbers rose 70 per cent after they arrived in January.
"Clearly, there wouldn't be any greater attraction in any zoo in the world more popular than giant pandas," Mr Lee said. "I'm absolutely certain that the pandas could pay their way."
Mr Key – who will make an official visit to China next month – said last night that while he liked the idea of obtaining pandas, he realised they were not cheap.
"I have been supportive of the idea … but I am also cognisant of the fact that if we were to sign up to the current conditions, even if the Chinese would lease us these pandas for 10 years, there's a cost."
But that cost could be offset by the "considerable revenue" pandas would generate, and he was also hoping to be able to negotiate "a much better deal" with the Chinese.
"Whether it will be successful I don't know. There's not a lot of pandas to go around and whether they can come to New Zealand for 10 years … I'll let you know."
Mr Key yesterday told TVNZ's Breakfast programme he would suggest trading two pandas for two kiwi as a cost-saving measure.
"My idea was, I know people pay $10 million but we're a special friend of China, why couldn't we give them some kiwis. Two for two, kiwis are worth a lot."
He later said the aim was to determine the value of the panda "versus the value of a kiwi".
"The argument is really to say, look, this is a forming of a strong bond with China and one way is to exchange animals that are of national significance to each country."
Mr Key said any zoo that took on the pandas would to pay costs, including building enclosures and supplying food. The animals would also require specialist staff.
"There's a lot more to pandas than meets the eye, I learned when I started looking down this path. So the answer is I would expect local government, depending on where they went, to pick up a little bit, we would pick up some but the economic stimulus from a pair of pandas is quite significant, as Adelaide has found out."
Source: www.nzherald.co.nz