< Go back
New Zealand wants to trade kiwis for pandas
Posted by Jeroen Jacobs | Date: 2010 06 28 | In: Auckland Zoo, Wellington Zoo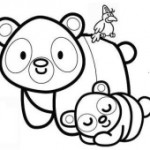 Prime Minister John Key is looking at trading two kiwis for two endangered Chinese giant pandas.
Asked about talks under way to bring two pandas here from China, Mr Key said he thought it would be an "extension of the bond" between the countries.
He started thinking about it during his last trip to China, Mr Key said.
However, the pandas are in hot demand.
Zoos in Adelaide and San Diego, which have pandas, will pay US$1 million ($1.4 million) a year for 10 years.
At the end of the decade the pandas, and any cubs they might have, are returned to China.
It was "more complex than it looks" to bring the bears here, Mr Key said.
But the economic impacts of having pandas were "huge", he said.
"My idea was, look, I know people pay $10m but we're a special friend of China, why couldn't we give them some kiwis.
"Two for two, kiwis are worth a lot," he told TVNZ's Breakfast programme.
Mr Key will travel to China during a 10-day trip to Asia next week.
Source: www.nzherald.co.nz