< Go back
Chinese President agrees on Panda Loan to Toronto Zoo
Posted by Jeroen Jacobs | Date: 2010 06 25 | In: Toronto Zoo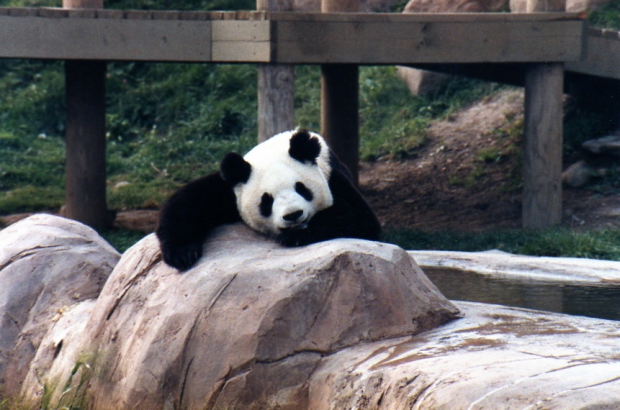 What does it take to bring a pair of giant pandas to the Toronto Zoo?
At least a dozen years and the G20 — so it seems.
When Prime Minister Stephen Harper and Chinese President Hu Jintao meet this weekend, they are expected to agree to begin negotiations for a 10-year loan of a pair to the Toronto Zoo. Yes, it's on the agenda, if only briefly.
Pandas visited the zoo for a short while in 1985. It has been trying to bring them back since the early 1990s, but has been unsuccessful largely because China negotiates only with national governments.
"Stephen Harper has been the only prime minister to get interested," said Councillor Giorgio Mammoliti, a zoo board member and mayoral candidate who has made it a mission to get the pandas for eight years, despite skepticism over whether they would attract enough extra visitors to make the drain on zoo finances worthwhile.
If negotiations go as planned, the pandas could be here before the PanAm Games in 2015, Mammoliti said.
A 2009 Toronto Zoo report predicted pandas could draw an extra $9.3 million in revenue in the first year. But they come at a price: Borrowing a breeding pair for a decade could cost $10 million, payable to the Chinese government as a "conservation fee." Add $15 million for a purpose-built pavilion, plus vast quantities of tender bamboo shoots flown in from China. Housing them would require about 10,000 square feet.
Mammoliti said he is "very confident that the zoo wouldn't have to spend a dime" on the exhibit, insisting strong public interest would attract corporate sponsorship.
China plans to send several cultural displays to Canada, including the ROM. And though a government press release doesn't say so directly, "The pandas are clearly going to the Toronto Zoo," Mammoliti said. Zoos in Calgary and Granby, Que., are also interested but Dr Zhang Mingda of the China Panda Base has expressed his concerns over the sharing of the pandas and would like to see the pandas stay at Toronto Zoo. He believes that the loan should not just be for exhibitions, but the pandas should be part of a larger protection and research activities and that such activities could not be done in three years.
The pair that would come to Canada is already identified and lives in one of Toronto's twin cities in China. Pandas are big business for that country, the poster creatures of the conservation movement and an appealing global brand.
Source: www.thestar.com