< Go back
Chapultepec Zoo loans Shuan Shuan to Guadalajara Zoo
Posted by Jeroen Jacobs | Date: 2010 07 08 | In: Chapultepec Zoo, Zoologico Guadalajara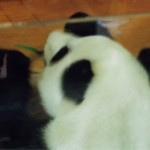 Chapultepec Zoo loans Shuan Shuan to Guadalajara Zoo until January 2011.
The 23 year old female was born at Chapultepec Zoo. She is one of only four giant pandas who don't belong to China. Her parents, Pe Pe & Ying Ying, were a goodwill gift from the Chinese government when vice-premier Chen Yuachi visited Mexico in 1975.
In exchange, the Guadalajara facility loaned the Mexico City zoo a white tiger, a mandrill, a Cape buffalo and a male cougar. In addition, part of the funds raised through ticket sales will be donated to the Chapultepec Zoo's panda-conservation program, which seeks to expand the captive-panda population using techniques developed in China.
The Chapultepec Zoo also is home to two other female giant pandas that were born in Mexico and are Mexican property.
The director of the Guadalajara Zoo, Francisco Rodriguez Herrejon, described Shuan Shuan's arrival as the biggest event in the park's history and said the goal is to draw millions of visitors, both children and adults, from across western Mexico.
The panda's stay got off to an auspicious start, with a crowd of visitors taking photographs and filming the new arrival in the minutes after she was put on display.
She arrived last week by plane and has adapted quickly, the director of the capital-area zoo, Jose Bernal Stoopen, told reporters.
"She's in perfect health. The period of adaptation was quicker than we thought. She has a very gentle personality and is accustomed to traveling, so that's why we thought it would be easy for her to adjust to this city," Bernal Stoopen said.
The Guadalajara Zoo has spent four million pesos to bring Shuan Shuan from Mexico City's Chapultepec zoo for the next six months. (about 312,000 US dollar).