< Go back
Fu Fu moves from Fuzhou to Chengdu Panda Base
Posted by Jeroen Jacobs | Date: 2012 02 20 | In: Chengdu Research Base of Giant Panda Breeding, Fuzhou Panda World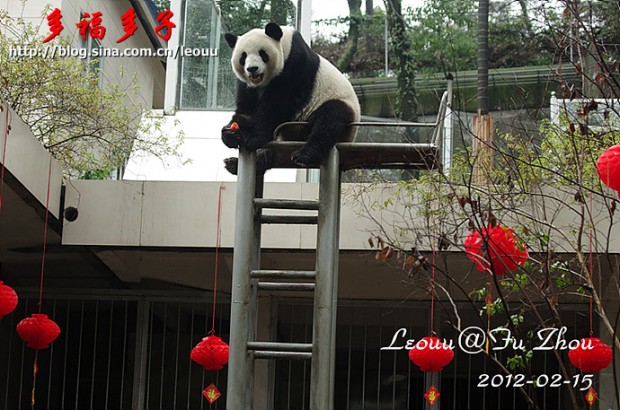 Fu Fu was transfered from Fuzhou Panda World to the Chengdu Research Base of Giant Panda Breeding on February 16, 2012.
Fu Fu's going away cake was decorated with seven bamboo sticks, six heart-shaped apple slices and two small pandas that represented, respectively, his 7 years in Fuzhou, the six keepers who took care of him, and Fu Fu and his bride.
Fu Fu had been moved from Bifengxia to Fuzhou in April 2005 and returned to Bifengxia on May 6, 2008. He was not in Wolong when the earthquake occurred on May 12, 2008. But since most of the pandas from Wolong had to be relocated, Fu Fu went back to Fuzhou on June 24, 2008. He will now have the chance to participate in the giant panda breeding programma in Chengdu.
Go to Leouu's Blog for more pictures of his going away party:
http://blog.sina.com.cn/s/blog_5314571e0102dx2h.html
http://news.163.com/12/0216/03/7QBTCGPV00014AED.html
http://blog.sina.com.cn/s/blog_49246d360102dyul.html
http://newscontent.cctv.com/news.jsp?fileId=131955