< Go back
Ji Li moved back to Chengdu
Posted by Jeroen Jacobs | Date: 2012 10 17 | In: Chengdu Research Base of Giant Panda Breeding, Toronto Zoo, Xiamen Haicang Safari Park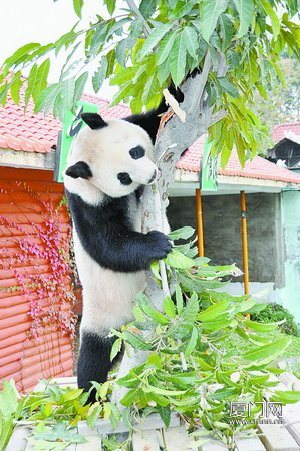 Ji Li, a giant panda who made her home at Haicang Safari Park in December last year, left Xiamen on Wednesday October 17, 2012.
"Ji Li will first return to Chengdu Panda Base to have a comprehensive health check. After that, she will partner with Er Shun, a male panda from Chongqing Zoo, to participate in a 10-year research program in Canada starting next year. " said Yang Kuixing, Director of the Animal Management Department of the Chengdu Research Base of Giant Panda Breeding.
According to the agreement signed by the Chinese Association of Zoological Gardens (CAZG) and two Canadian zoos in February this year, Ji Li and Er Shun will stay in the Toronto and Calgary zoos for five years each after they arrive in Canada early next year.
Yang said Xing Bang, a male panda who was born in Japan in 2005 and returned to Chengdu in 2009, will replace Ji Li to stay in Xiamen. Xing Bin is expected to arrive at Haicang Safari Park by the end of this month.
Source: http://www.whatsonchengdu.com/news-4754-panda-ji-li-to-leave-xiamen-for-chengdu-panda-base-for-health-check.html
Source: http://fj.qq.com/a/20121018/000015.htm