< Go back
The first six pandas moved to 'Panda Valley'
Posted by Jeroen Jacobs | Date: 2012 01 18 | In: Chengdu Field Research Centre for Giant Pandas of CRBGPB, Chengdu Research Base of Giant Panda Breeding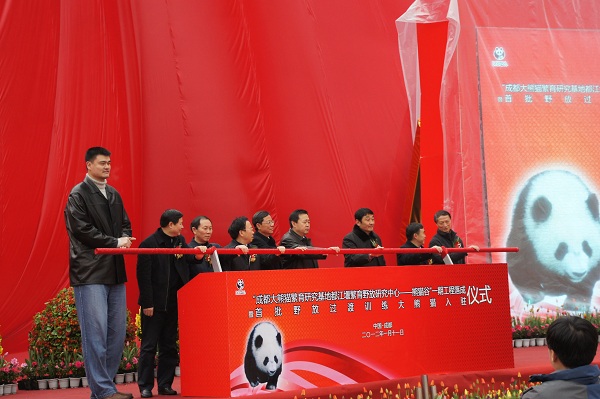 The first six giant pandas moved to the Chengdu Research Base of Giant Panda Breeding Dujiangyan Field Research Center for Giant Pandas on January 11, 2012.
Xing Rong, Xing Ya, Gong Zai, Ying Ying, Qi Qi & Zhi Zhi moved to the experimental area. It is the first of three stages, here the pandas should get used to the new environment. It was former basketbal player Yao Ming who opened the gate to 'Panda Valley'.
The center is located in Majiagou, Yutang Town, with a total area of 2004 mu and a total investment of RMB 300 million. In later stages it will be home to 30 to 40 giant pandas, 50 to 100 red pandas, and other wild animals.
It took panda experts more than 50 years to reach this level of knowledge about captive pandas and panda breeding. Experts expect that it will take them again 50 years, or even longer, to become experts in panda introduction.
'A New Era in Giant Panda Conservation' started…
More info on:
http://www.panda.org.cn/china/news/news_view.asp?newsid=755
http://yumikaji15.blogspot.com/2012/01/reintroduction-project-six-giant-pandas.html
http://blog.sina.com.cn/s/blog_5d12f2f50102dxvp.html
http://news.sina.com.cn/green/news/roll/2012-01-11/103423782343.shtml
http://news.cntv.cn/china/20120111/112913.shtml
http://www.youtube.com/watch?v=CSROYT00Yf0
http://www.china.org.cn/video/2012-01/11/content_24377654.htm
http://www.bbc.co.uk/news/world-asia-pacific-16501672
http://www.usatoday.com/news/world/story/2012-01-11/china-panda-freedom/52502414/1
Photo Credit: Yumiko Kajiwara