< Go back
Cai Tao and Hu Chun arrive in Indonesia
Posted by Jeroen Jacobs | Date: 2017 09 29 | In: Taman Safari Indonesia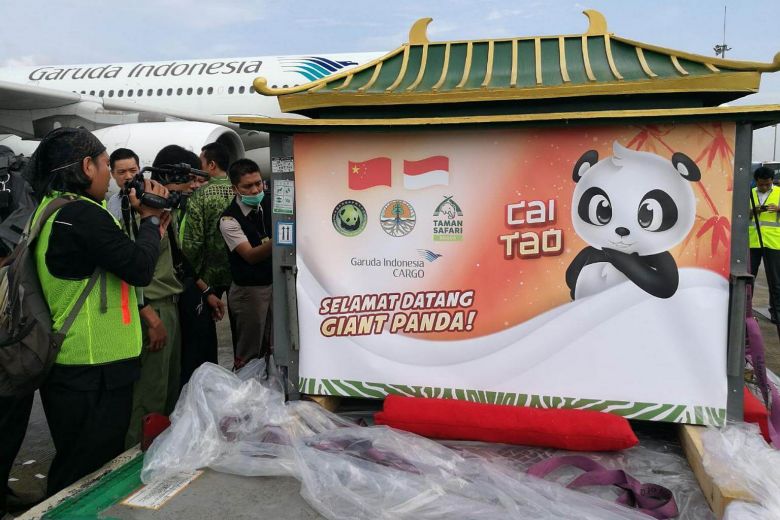 Two giant pandas have arrived in Indonesia on September 28, 2017.
Cai Tao & Hu Chunwill live at Taman Safari in Bogor, West Java province, about two hours' drive from the capital Jakarta.
The seven-year-old pandas, on a 10-year breeding loan, arrived at the Soekarno-Hatta International Airport at about 9am local time on Thursday (Sept 28).
Cai Tao, a male bear weighing 128kg and female bear Hu Chun, weighing 113kg, occupied the forward cargo compartment of an Airbus 330-200 during a six-hour flight operated by Indonesian airline Garuda.
he bears will live in a 4,800 sq m panda park at Taman Safari Indonesia, located 1,700m above sea level to ensure the pandas are at a similar altitude to their hometown, said Mr Jansen Manansang, director of the safari zoo, according to Xinhua news agency.
The temperature at the safari zoo is 17 deg C at night and 24 deg C at noon, said Mr Jansen last week.
"We have prepared a 10 hectare ready-to-harvest bamboo plantation and four enclosures for the pandas – two indoor, one outdoor, and a special one for mating," Mr Jansen said.
The bears' arrival marks increased cooperation between the two countries on joint research of endangered species.
Indonesia has shared its expertise on breeding Sumatran tigers – previously classified as endangered – with China.
Indonesia will be the 16th country to host and help breed giant pandas, said acting Chinese ambassador to Indonesia Mr Sun Weide last week.
Mr Sun explained that Cai Tao in Chinese means colourful porcelain and Hu Chun is lake in springtime. "The names suit beautiful Indonesia, a country that has thousands of islands," he said.
Source: http://www.straitstimes.com/asia/se-asia/chinas-giant-pandas-cai-tao-and-hu-chun-arrive-in-indonesia