< Go back
Spring is in the air for Wang Wang & Fu Ni
Posted by Jeroen Jacobs | Date: 2017 09 23 | In: Adelaide Zoo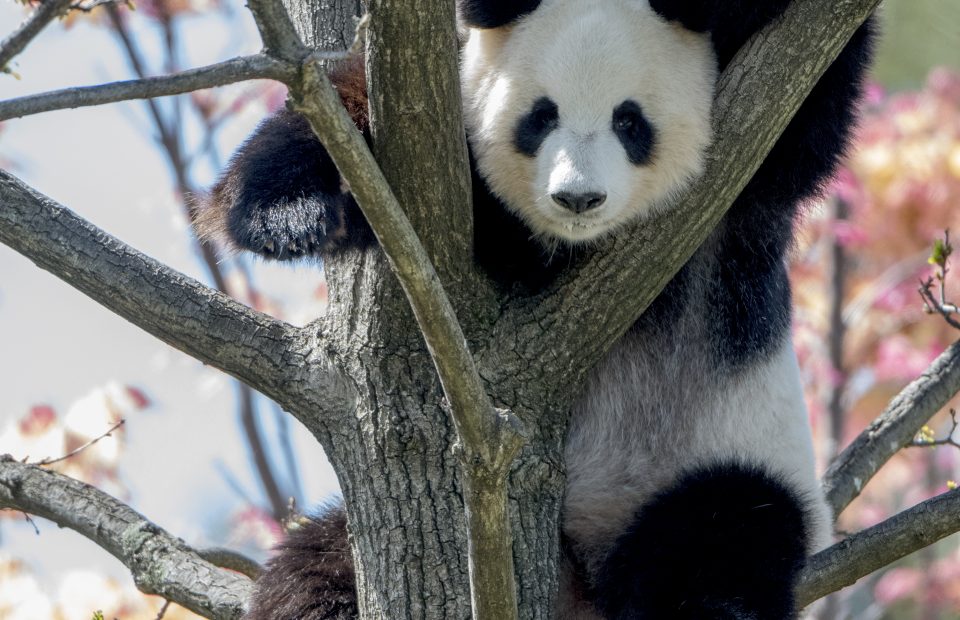 Spring is in the air and all signs indicate Adelaide Zoo's Giant Pandas are close to entering their annual breeding season.
Adelaide Zoo's veterinary and keeping teams are finalising preparations as physiological and behavioural signs show Wang Wang and Fu Ni are approaching their 36 hour breeding window.
A Giant Panda reproductive specialist from the China Conservation and Research Centre for the Giant Panda has arrived in Adelaide to help support breeding season activities.
Adelaide Zoo staff are being supported by reproductive fertility scientists from Repromed who will analysing regular urine samples to determine the peak of Fu Ni's oestrous cycle.
Adelaide Zoo Senior Panda Keeper Jaimee Foote said the behaviour changes indicate Wang Wang and Fu Ni are ready for their yearly breeding season.
"Over the past few days, Fu Ni and Wang Wang's activity levels have increased and they're displaying classic panda breeding season behaviours, including prolonged pacing, scent-marking, and tree climbing," Jaimee said.
"Fu Ni has an extremely short window of fertility, lasting approximately 36 hours a year, so we're ready to work round the clock to maximise the chances of a positive result.
"Giant Pandas have an incredibly unique reproductive biology. As a result, it can be difficult for a panda to become pregnant, and even more difficult to confirm a pregnancy and achieve a subsequent birth – but the team will be doing everything we can to give them every chance of success.
"Although Wang Wang and Fu Ni arrived almost eight years ago, this year marks our fourth genuine attempt at an artificial insemination, and we are excited to be closer than ever before to achieving our ultimate goal of welcoming a Giant Panda cub to Adelaide Zoo," Jaimee said.
Adelaide Zoo Senior Veterinarian Dr Ian Smith says a natural mating is the preferred option for breeding pandas, however the team would be doing everything they could to help Wang Wang and Fu Ni on their journey to parenthood.
"We were extremely pleased with last year's artificial insemination procedures, with results again confirming that Wang Wang's semen is of a high quality," Ian said.
"Artificial insemination has played an important role in the captive breeding of Giant Pandas around the world due to the species' unique reproductive biology, but it doesn't guarantee a pregnancy and subsequent birth.
"There's every chance that Fu Ni has been pregnant in the past and miscarried; their complicated reproductive biology presents a number of challenges in determining this.
"What we're undertaking at Adelaide Zoo is valuable research which will continue to improve global understanding of panda reproduction and improve our chances of success."
The Adelaide Zoo veterinary team will again be assisted by a host of external support.
"At this point, reproductive specialists at Repromed are stepping in to help pinpoint the exact time of ovulation through analysing urine samples," Ian said.
"As soon as we see the peak in Fu Ni's levels of oestrogen and an increase in progesterone levels, we'll know that she has recently ovulated and if we don't see a natural mating, we'll proceed to artificial insemination."
With less than 1,864 Giant Pandas living in the wild, Wang Wang and Fu Ni are powerful ambassadors for their species and since arriving in Australia they've played an important part in international Giant Panda conservation and research.
Adelaide Zoo's Bamboo Forest will be closed for the next three days unless further advised to maximise the chance of success.
Source: Adelaide Zoo