< Go back
Wang Wang & Funi draw 70% more crowds
Posted by Jeroen Jacobs | Date: 2010 06 16 | In: Adelaide Zoo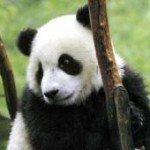 Giant pandas Wang Wang and Funi are proving a significant drawcard for visitors to the Adelaide Zoo.
They have attracted around 70% more visitors to the zoo in the six months since they arrived. More than 25% of those people coming from outside of the state.
The zoo was celebrating the pandas' six-month anniversary by announcing a sponsorship deal with AGL Energy that will give the pandas' home solar power that is state-of-the-art.